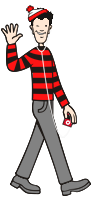 Where is Skandar Keynes right now? I might as well ask, "Where's Waldo?" Anyone's guess is as good as mine, so let's make it a game!
Fans tell me on Twitter and Tumblr that Skandar might be in the UK. But he's probably still in Yemen, working hard on his third-year Cambridge internship – just like his friend Freddie Highmore in Kuwait. Skandar also went to Lebanon last November just to run the Beirut Marathon and visit family. Then he returned south. So why did Skandar say "going" to two Cambridge events next month on Facebook, the Discotechnics one cancelled? Maybe he wanted to be with his friends "in spirit"!
Skandar knows where he is, but I don't. I'm not friends with any of his friends or family members on Facebook. I don't want to invade their privacy, unlike the Skandarians and other fans who overstep ethical boundaries. I've seen Skandar's Facebook profile. I know the url. But I'm not going to share it with anyone. I'm not really sure how other fans found it.
I heard this week that Skandar has anonymously visited some of his fans' websites and blogs recently, most likely from Yemen. In the last 30 days, according to the world map no one from Yemen has visited my website. But in the "who's been online" section of my dashboard, someone from Yemen did visit (and refer) a Georgie Henley story on January 21. Whether or not it's Skandar (and I doubt it), I'm not going to worry about it. Skandar and Georgie, along with their friends and families, don't have to visit this website. However, I'm grateful if they do and I hope they like my work.
Until I find more definite proof of Skandar's current location, I'm not going to say anything about him being in the UK on my website and social networks again. I'm sorry that I have in the past. Maybe Skandar is reading my news stories and laughing. I hope he enjoys the joke. In the meantime, let's all play "Where's Waldo?"
PS. For answers to frequently asked questions about Skandar and Georgie, please visit my FAQ page on this website and on Facebook.